The Flagship Sites of the Kaipara Harbour
The Kaipara Harbour suffers from the cumulative effects of sedimentation and eutrophication. The source of sediment and nutrients is derived from its massive catchment of 654,000ha. To reverse the degradation of the Kaipara Harbour, this initiative invests in building leaders through community-led action. The purpose of the initiative is to promote kaitiakitanga, through the establishment of flagship sites representing farming and industrial uses. These land-based sites will aim to connect with a harbour site to achieve a holistic integrated restoration approach for a harbour-catchment ecosystem.
The purpose of the flagship sites is to contribute to understanding what sustainable best-practice resource use is for the restoration of the Kaipara moana. The objectives of the program are:
Establish 8 farming sites, 2 industrial sites and 1 marine site.
Use flagship sites to demonstrate sustainable and integrated best-practice that mitigates delivery of sediment, nutrient and faecal contaminants to the Kaipara moana.
Community-led restoration activities are expanded to other areas within Kaipara Harbour catchment
The project raises awareness of the value of restoring the Kaipara Harbour and catchment to local and regional people
The project increases the number of local and regional people involved in IKHMG activities
The initiative will deliver a series of "paddock-to-harbour" themed workshops held at the flagship farms. The field days focus on practical methods that can be used on-farm that will mitigate the delivery of sediment, nutrients and faecal coliforms to waterways of the Kaipara catchment and into the Harbour.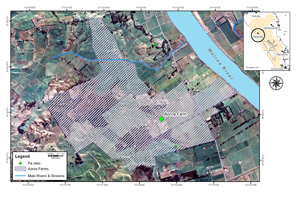 Aoroa Farms
This family owned, 517ha dairy unit runs about 800 Friesian crossbreeds producing 290,000 kgs of milk solids/MS per season.
The vision is to operate a sustainable enterprise that improves and enhances native biodiversity to attract birds, and to support community initiatives.
Kaipara Harbour best-practice initiatives include: use of biological soil farming; addressing stormwater run-off from races and tracks; wetland planting and revegetation.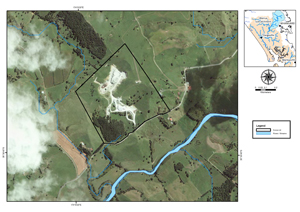 Avoca Group Ltd.
Located in the Hikurangi Swamp, this is our first industrial site within the flagship programme. Avoca quarry for limestone for fertiliser, do fertiliser blending and composting of paunch.
Their vision is to operate a business that works to reduce harm to water quality of the Wairua River and Kaipara Harbour.
Kaipara Harbour best-practice initiatives include: returning a drain to a functioning wetland ecosystem.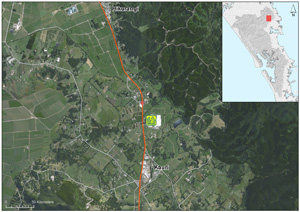 Fonterra - Kauri
The Kauri site in Northland was established in 1989 and produces about 116,000 tonnes of skim milk, whole milk, nutritional powders, specialty butters and anhydrous milk fats each year. Fonterra - Kauri is one of the most energy efficient and environmentally friendly Fonterra sites in New Zealand. More than 98 per cent of all waste at the site is recycled through irrigation and a bio aeration pond system.
Kaipara Harbour best practice initiatives include: monitor water quality and to organise and facilitate wetland planting for the continuous commitment to enhancing the wellbeing and sustainability of the Kaipara.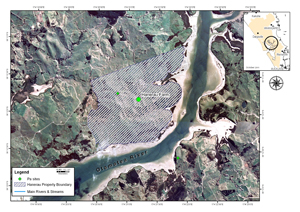 Hanerau Farms
361 ha beef unit located on steep and undulating hill country, with wetland gullies, streams and indigenous bush remnants.
Kaipara Harbour best-practice initiatives include: Whole farm plan; fencing of indigenous bush and coastal foreshore; stabilising eroding hillslopes; riparian planting.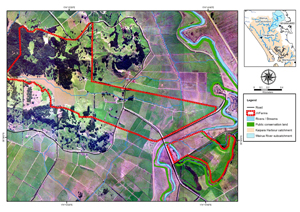 JV Farms Ltd.
Located in the Hikurangi swamp, this 100 ha effective milking platform produces up to 160 000 kg of milk solids.
Challenges include maintaining economic viability in a floodplain ecosystem.
Future vision involves increasing productive area and stock numbers while working with the floodplain ecosystem not against, addressing effluent use, waterway protection and re-establishing kiwi and dabchick in the community pest control area.
Kaipara Harbour best-practice initiatives include: Whole farm plan; feed pads and discharge to land effluent system; biodiversity enhancement; city food waste as supplemental feed.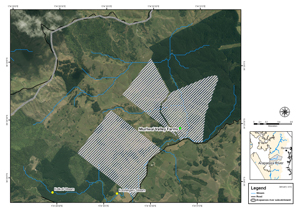 Muriwai Valley Farms
An organically certified (Bio-gro New Zealand Certification) 97 ha farm carrying stud stock of red devon cattle, Arapawa sheep and goats, large lop-eared black pigs and Wiltshire Horn sheep.
On gently undulating landscape is a diversity of pasture grasses, bush (woodlands) and wetlands. This mixture provides a rich mineral and trace element diet.
Kaipara Harbour best-practice initiatives include: Using antural biological activity in the soil to grow grass crops and healthy livestock; fencing gully wetlands; riparian planting.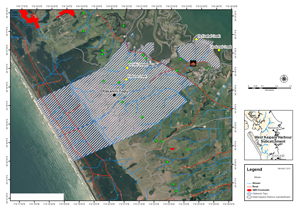 Otakanini Topu
Extensive pastoral farming enterprise of 2630 ha grazing up to 16 000 stock units and 600 ha of forestry.
Challenge is balancing productivity of the farm with cultural and environmental values.
Kaipara Harbour best-practice initiatives include: Urupa revegetation programme; stabilising shifting sand hill country; water reticulation system; wetland fencing and planting.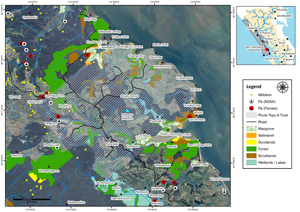 Pouto Topu A Trust
This 2981 ha Maori owned farm with 550 shareholders, is located amongst the dune lakes and coastline of Pouto. The Trust operates five separate farming units - sheep and beef wintering 5300 stock units, intensive beef wintering 2215 stock units, forestry and two dairy units milking 1100 Jersey dairy cows.
Their vision is to balance economic, environmental and spiritual values and farm in a sustainable manner that will pass the benefits on to mokopuna, rangitane and future generations.
Kaipara Harbour best-practice initiatives include: Whole farm plan; waterway and wetland biodiversity enhancement; riparian planting.
Streamland Suffock Farms
A 68 ha, south-facing, gently undulating property carrying around 300 Suffolk ewes.
Co-led, international breeding programme and sheep stud business.
Kaipara Harbour best-practice initiatives include: QEII forest remnant covenants protect the biodiversity values on the farm; improving soil structure and addressing steep gully slips; fencing and planting gullies and waterways.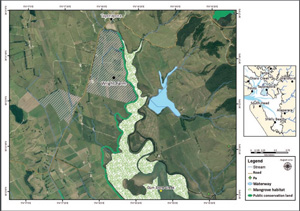 Wright Trust Farms
Located at Taporapora, the birthplace of Ngati Whatua, adjacent to the entrance of the Kaipara Harbour. The farm is 120 ha and produces 110,000 kg milk solids.
Their vision is to showcase how intensive dairy farming has a future where consideration of the environment and perspective of local communities makes business sense.
Kaipara Harbour best-practice initiatives include: riparian & wetland planting, soil ecosystems and nutrient budgets.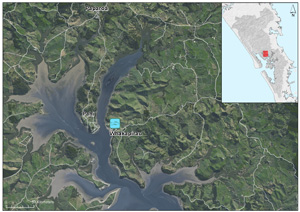 Yardley's Fisheries Marine Site
Peter and Christine have worked the harbour for over 45 years and joined as a Flagship Site to promote a sustainable approach to fishing and to encourage other fishermen to take this approach. They find their work with children especially positive and encouraging. Their vision is to promote farming of fish as is done on land, promote sustainable fishing practices and visit with schools and maraes to pass on an understanding of how the harbour works. They are very pleased to be associated with IKHMG's kaupapa.
Kaipara Harbour best practice initiatives include: sustainable fishing practices, facilitation and promotion of best practice within the local and greater community.