Integrated Management and Coordinated Action
The longterm objective integrated co-management of Kaipara ecosystems, catchment and harbour defines and emphasis a management approach that considers the whole harbour, including people; cumulative impacts of different sectors; interconnectedness between realms; integrates all perspectives; is a partnership and collaborative approach; where knowledge and information is shared and, there are strong links between planning and monitoring.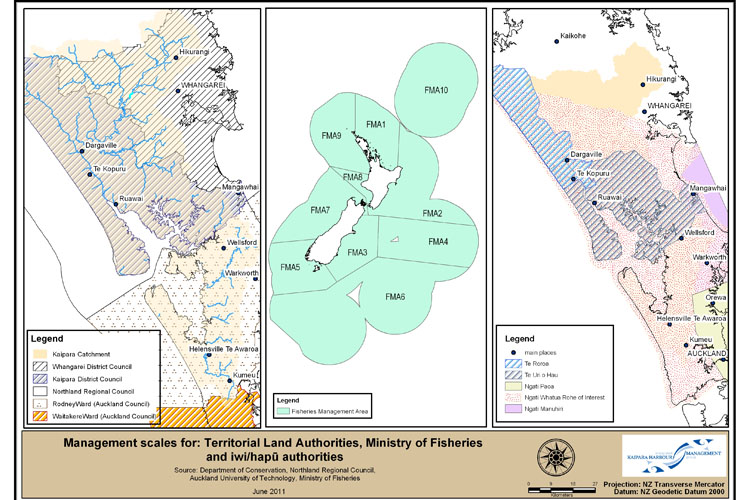 (Image: IKHMG 2010)
Issues:
The Kaipara harbour and catchment has a complex environmental management structure. Governance and management by multiple territorial and iwi and hapū authorities, has resulted in a plethora of western legislation, policies and planning instruments. This has created conflicting management philosophies, conflicting management scales and a highly fragmented legislative framework (see image above).
The main regulatory agencies are: Auckland Council, Northland Regional Council, Kaipara District Council, Whangarei District Council, Rodney Local Board; Northland Conservancy, Department of Conservation, Auckland Conservancy Department of Conservation; and the Ministry of Fisheries (MFish). Te Iwi o Ngāti Whātua hapū hold mana whenua status over the Kaipara harbour and catchment, and Te Roroa, Te Parawhau, Ngāpuhi and Ngāti Hine hold mana whenua in the northern parts of the catchment. Te Kawerau a Maki hold mana whenua status over part of the south-western catchment that encompasses the foothills of the Waitakere Ranges to Taupaki.
Key issues are encapsulated in two broad areas: (1) number of regulatory agencies; and (2) existing environmental issues, namely, declining fish stocks, environmental effects of fishing, increasing land-based derived sedimentation and declining water quality; increasing resource use and development; unhealthy mauri; loss of biodiversity.
Biodiversity management objectives in council statutory planning documents are comprehensive and provide scope for protecting and restoring indigenous biodiversity. However, problems lie with implementation of district plans arising where planners are not making full use of the available information base; a lack of monitoring and, failures by planners and ecologists to properly understand and communicate information for effective planning. The majority of biodiversity protection and restoration is voluntary without any clear leadership or national policy directions to halt the decline of biodiversity across Kaipara ecosystems.
The integrated co-management initiatives of the IKHMG are hindered due to the lack of any statutory framework in which to ground them. Co-management and integrated management is justified under both the RMA and the Conservation Act but very rarely occurs. The prospect for integration to occur between Kaipara District Council and Auckland Council planning for coastal development looks bleak as they both take different approaches (Kirchberg 2007; Peart 2007). To then integrate fisheries planning, marine protection planning and regional coastal planning poses a greater challenge to address a truly integrated management approach for the Kaipara Harbour.
Strategy:
Transitioning to a truly integrated kaipara harbour will require governance. Governance affects not only how management will be executed, but also how information will be collected, synthesised and shared – well in advance of a management response. Our strategy is to achieve the necessary steps to move towards a truly integrated, ecosystem-based management of the Kaipara harbour.
Goals:
Promote integrated and co-ordinated management of the Kaipara Harbour and its catchment through regulation, policy, research, monitoring, partnerships, planning and collaborative initiatives.
Information Review & Gap Analysis:
The relevant sections of The World of Kaipara Information Review & Gap Analysis detailing integrated management of Kaipara Harbour is Chapter